There have been two superhero changes announced this week, both to fairly big-name characters. That means nothing in the long run, because big-name characters always revert back to the original form after a while, but that's also what's sort of cool about these mainstream comic book characters – they can continuously be retold and rebuilt in different ways, and if you don't like the new version, just check back again in a year or two.
First of all, Marvel Comics announced that Thor will be a woman (thanks to Guthrie for pointing this out in comments). See, in the Thor comic book, anyone who is worthy (noble, brave and so forth) and picks up the big Thor hammer becomes a new incarnation of Thor (a fairly blatant imitation of Green Lantern's ring). I don't think this has come up in quite a while, but in the classic Walt Simonson run in the 1980s this feature was used to make Thor an orange-skinned alien named Beta Ray Bill for an extended plotline. He was also a frog for three issues.
Anyway, the new Thor: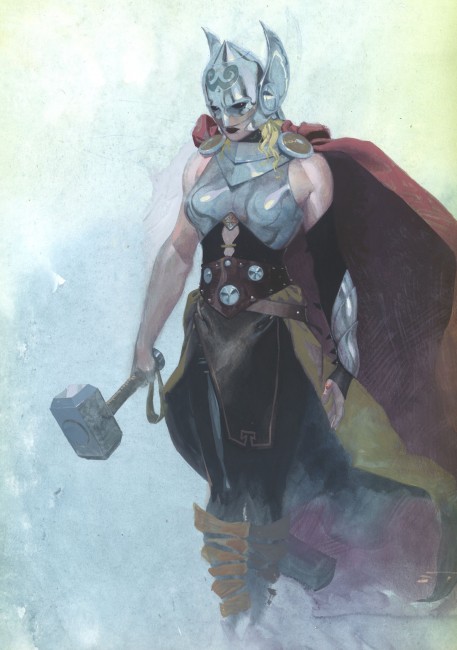 I'm feeling underwhelmed by this costume design. First of all, boob-plates suck as armor. And is that a belly window below the boob plate? No, no, no. Plus it's sort of a dull design – if Marvel had gone for a female Thor a quarter-century ago, it might have looked like this. It says "female Thor," but it has no personality beyond that. Points for giving her pants, I guess.
But what about the coolness factor of Thor being a woman? Well, it might be cool, if the comic is well-written – but this costume design doesn't bode well, because it suggests that they didn't give much thought to this beyond the gimmick. Also, this particular character change comes with an exparation date, because there is no way Marvel won't have Thor revert to being a big buff guy by the time either Avengers 2 or Thor 3 come out.
Meanwhile, over at DC, fan-favorite feminist writer Gail Simone's run on Batgirl is coming to an end.1 Interestingly, rather than continuing the mood of Simone's run – which has been classic Bat-book grimdark – the new creative team has decided that Barbara Gordon will lose all her possessions (and her current costume) in a fire, move to Gotham's equivalent of hipster Brooklyn, attend grad school, and have a tone that they claim will be a mix of "Veronica Mars," "Sherlock," and – implausibly – "Girls." Here's the new costume design: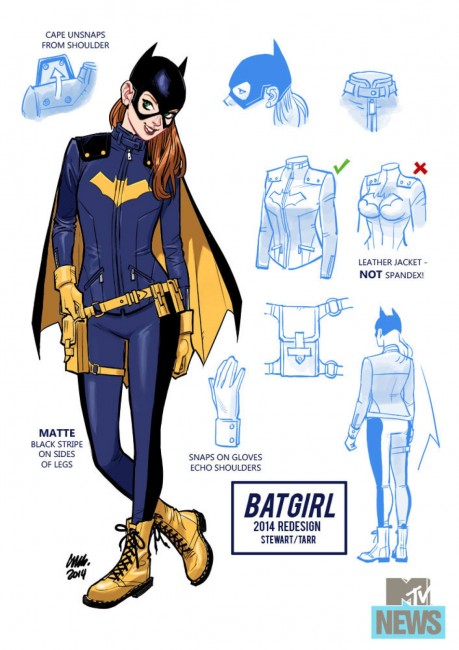 This is a MUCH better costume design – recognizably Batgirl, but full of personality and telling a story. (After the fire, the character puts together a new costume out of thrift store finds.) Dean Trippe at Project Rooftop (a superhero costume design blog) writes:
This look, a collaboration from Babs and Cameron, features such wonderful clarity and control. The overall vibe reminds me of the jacketed look of my first Batgirl redesign (don't look at it, it was ages ago), which helped launch this entire enterprise here at P:R, but this has so much more detail and cleverness. It's physical. It's stylish. It's practical at every level. The over-the-ears cowl, the snap-away cape, everything about this new Batgirl is wicked.
Also, all the seams in DC costumes since the "new 52" design have really annoyed me, because they look inauthentic – as if the designer doesn't know what seams are or how they function. In contrast, the seams here not only look good, they look plausible.
Will the comic be any good? I hope so. It's possible that the creators will end up doing a charmless book full of sexist "she's so girly and silly" cliches. But the costume bodes well – it suggests that they have a strong concept and have thought it through. And I like that there are women on this creative team (as there were on the previous team, of course).
P.S. There's an amazing amount of new Batgirl fanart already.
P.P.S. The "NOT spandex" note and illustration cracks me up. ("Spandex" is a superhero term of art meaning "body paint," it appears.)
I'm not going to get into how much it sucks that DC turned Oracle into Batgirl, but it REALLY SUCKS. It does demonstrate that even great and long-lasting changes to major Marvel and DC characters eventually revert. [↩]
---